Usually the largest budgeted area of any eCommerce business. Paid search is the fastest way to drive traffic to a website. We have years of experience as a PPC service. Creating and optimising PPC agency and client accounts. We regularly find the same pitfuls in client accounts. Badly structured ad groups, wasted spending on branded keywords or broad/phrase terms or not optimising for the latest ppc marketing opportunities. Underutilised Bing ppc accounts and a lack of understanding of a business's sale patterns are other common failures for success. Our ability to understand our client's industry as leading PPC Specialists gives us a competitive advantage over similar ppc agencies in dublin and across Ireland.
View Tom Gibbons On LinkedIn
Tom has been in the industry over a decade and has worked in several different industries. He'll oversee your account and be your main point of call.
Reach your business goals with one of the best PPC Management Services in Ireland
Start with the business itself in this area we check if all the tracking is up to date and has best practices. What type of traffic is coming to the site, what audiences, what is successful and what isn't? This is a brief overview of the initial questions we have with an account.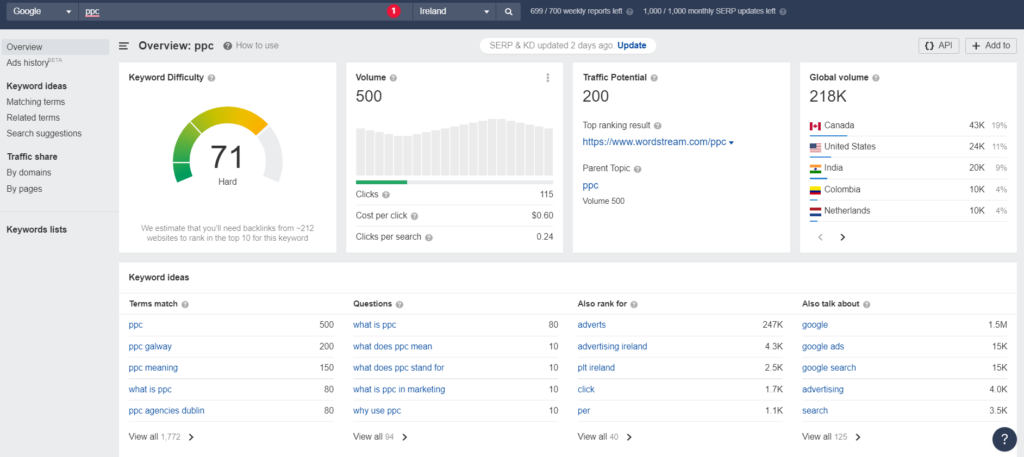 Keyword research is one of the most important parts of creating an effective PPC campaign. Without keywords, your ads won't be found by searchers, and your ad will not be displayed to people when they come across a search query. Without keyword research, you run the risk of having ads that are irrelevant or being shown to people who don't have the intent to buy your product or service.
If you haven't invested time in keyword research for PPC, don't worry; we are one of the best around in creating in-depth documents displaying keyword potential.
Cost management is a core competency that every business needs to thrive. PPC cost management is no different. If you're not tracking and analyzing your costs, you can easily get buried under expenses that aren't necessary. PPC Costs are the sum of all the money spent on your PPC campaigns. In other words, it's the total amount of money that has been spent to generate revenue for your company during a specific period of time. Tracking and analyzing every cost will help you get an accurate picture of how much money you should spend in order to generate as much revenue as possible. PPC Cost management is one of the most crucial aspects of running any paid account because it determines how efficiently an organization spends its money, and whether it creates value for its stakeholders over time. A company with poor cost management will find itself constantly struggling to stay afloat financially while a company with great cost management can operate without worrying about finances for long periods of time. We understand every business and budget is different and work hard on full transparency in our cost management.
LEAD GEN / CONVERSION MONITORING
Conversion rate is a crucial metric for every digital advertising campaign. After all, a low conversion rate means that your audience isn't finding your content as useful or entertaining as you'd like them to. A high conversion rate means that they are finding it useful and entertaining enough to make a purchase from your store (or another business) after seeing your ad. We show and discuss different ways to track conversion rates, events, goals using Google Ads and Bing Ads.
 With the right reporting tools in place, it's easier than ever to get timely insights on how your business is operating, what's working, or where the next opportunity lies. You might have set tracking platforms. However our go-to is Looker (firmly Google Data studios) this comes with our package creating a bespoke dashboard for your business showcasing our objectives. Looker is a tool that lets us build applications that integrate with Google products i,e. Google Ads